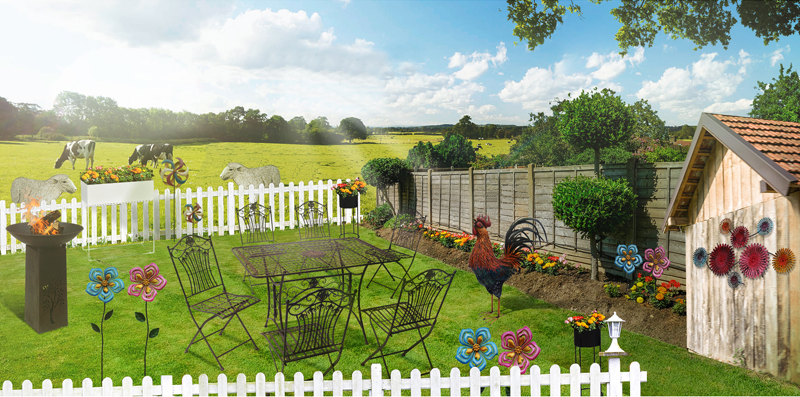 In contemporary home, especially during the epidemic period, outdoor life in one's own garden has become an important part of life. In addition to enjoying the sunshine, fresh air and flowers in the garden, some favorite outdoor furniture, such as iron table and chairs, metal gazebo, tree bench, swing or bench, has become an important ornament of outdoor life in the garden.
For the purchase and maintenance of garden furniture, the following opinions are for reference only. I hope they can help you to enjoy your colorful outdoor life.
Which Metal Garden Furniture To Buy?
Perfect for patios and terraces and stylish on a lawn, metal garden furniture is a fabulous choice
Metal garden furniture is a great option for every garden because it'll look good for many years to come, and is easy to care for. There's a style and a metal that's ideal for every situation, too.
Types of Metal Garden Furniture
Different metals are used to make garden furniture, and each has distinct qualities.
Aluminium is often used in furniture designs because it's strong and durable, it's light and not easy to rust. But the price is relatively expensive, and the heat dissipation is poor in hot summer.
Wrought iron furniture is weighty, however, it's not the best choice if you need to move it around, or it's going to sink into the lawn. It can rust, so if you choose it, make sure it has been given an anti-rust treatment, such as powder coating. To prolong its life, it is preferable to store it in a shed, garage or under cover during winter.
Steel furniture falls between aluminium and wrought iron in terms of weight. Like wrought iron, it can rust so it's often given a electrophoresis and powder coating to help protect it.
If the coating is chipped, it will need to be touched up on time so the bare metal is covered once again. Steel is often positioned quite cheaply in the market due to its propensity to rust, but once it's protected and maintained well, it can last for several years.
Choose The Right Style and Size
When you're choosing, you'll find that metal garden furniture comes in a choice of metal only or metal plus other materials, creating attractive contrast.
Metal only garden furniture can look modern with sleek lines, or have ornate detail. If you have a cottage-style garden, intricate wrought iron designs can be a great complement, while more contemporary pieces suit most types of garden. Do bear in mind the position of your furniture and, if your garden is subject to strong winds, pick the heavier types of metal.
Metal plus other materials creates chic and sophisticated designs and makes the most of the qualities of both the elements used in their construction. Look for combinations such as strong and light iron frames for chairs and solid teak, or iron frames with PVC rattan or nylon ropes weaving etc. 
Care For Metal Garden Furniture
Use these tips to keep your metal garden furniture looking its best.
1. Clean metal furniture with warm water and mild detergent, and dry it afterwards with a soft, lint-free cloth. Do follow any specific cleaning instructions from your supplier, though.
2. Once you've finished using metal garden furniture for the season, bring it under cover, or cover it up in position.
3. Touch up any chips in surface coating with a car paint kit in the appropriate colour.
For inspiration for your outdoor living and dining spaces, please check out our website and find your favorite furniture and other ornaments.
---
Post time: Dec-31-2021